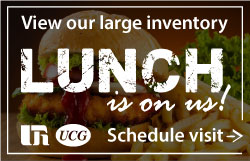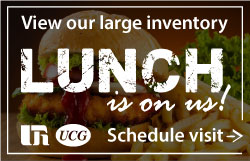 Universal would like to treat you to lunch in appreciation for taking the time to inspect machinery on our floor. To best serve you, our salesmen are available for virtual or in-person visits. We follow state guidelines to keep everyone safe while at our warehouse. As a thank you for your visit, we'd like to present you with a gift card for lunch on us, instead of a traditional lunch gathering. We look forward to meeting with you and discussing your needs, please contact us to set up an appointment at a time convenient for you.
What's to see at Universal?
Tour our 125,000 sq. ft. warehouse, fully stocked with over 600 tube, pipe and roll forming machines ready for your Inspection. View our entire inventory of tube mills, roll formers, high-frequency welders, cut-offs, end formers, accumulators, shear & end welders, uncoilers, straighteners, slitting lines and much more.
Take a walk through Universal Controls Group to view new control panels, drive systems, length control and various other industrial automation systems they manufacture. UCG can retrofit your existing machinery with upgrades to optimize your production capabilities.
Meet our experienced industrial machine mechanics who can recondition, upgrade and reconfigure machinery to meet your specific production needs. We also provide on-site repairs, preventive maintenance, electrical start-ups and installation management. Visit our services page to view photos and details about our many capabilities.
This promotion excludes dealers.
Universal Tube & Rollform Equipment
Universal Controls Group
26202 Glenwood Rd. Perrysburg, Ohio 43551 USA
(419) 872-2364