Showing all 66 results
Manual and Hydraulic Powered Decoiler / Uncoiler Machines For Sale
Visit our warehouse in Perrysburg, Ohio to view our large inventory of decoiler / uncoiler machines for sale.
Our inventory consist of a wide variety of quality decoiler / uncoiler manufacturers including Littell, Cooper Weymouth, ASC, Yoder, Kent, Rowe and many others. Along with quality, we also offer quantity in our large inventory of coil working equipment. Browse our other coil handling machines in-stock including coil cars, flatteners, accumulators, shear & end welders and more. In addition, we also offer complete entry systems that can be integrated into your current machinery lines.
Machine Reconditioning Services
Universal can recondition, rebuild and integrate your current machinery to your required specifications. Working together with Universal Controls Group to offer you the options you need such as new machine controls and drive systems. Universal Controls Group also offers length control for cut-offs and other accessories to retrofit your existing machinery. Whether it's one single machine or a complete line, we would be happy to send you a quotation for this service.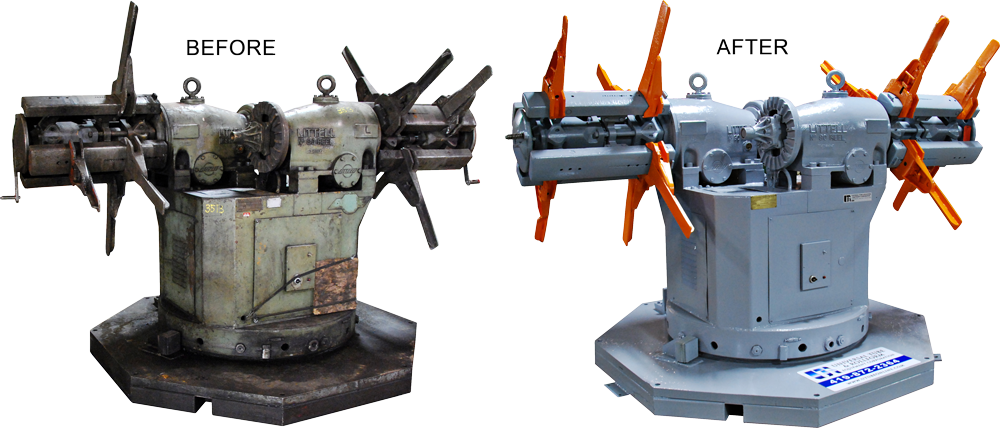 Whatever your coil processing machinery needs, Universal is your one-stop equipment source. Our warehouse is fully stocked, and our machines are ready for your inspection. Let your salesperson know when you'd like to visit, we look forward to seeing you!