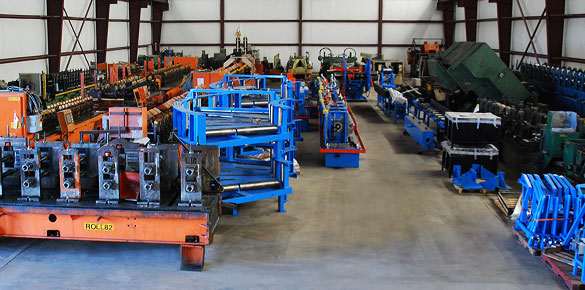 Founded in 1984 by Ralph Girkins, Universal Tube & Rollform Equipment Company has always been committed to being the number one supplier of tube, pipe and rollform machinery. In 2005, Ken Metzger, Ralph Girkins and Laura Smirin formed Universal Controls Group (UCG) to offer customers more options when buying machinery. Located in the same facility as Universal Tube & Rollform Equipment Company, UCG designs, builds and installs new control panels, drive systems, die accelerators and more for industrial manufacturing machinery. Working together over the years has enabled us to offer a wide array of cost-efficient services that sets us apart from other dealers.
In 2020, UCG acquired Universal Tube & Rollform Equipment Company to combine our companies into one great team. Our product and service capabilities will continuously grow to serve the requirements of our ever-growing and diverse customer base. Universal Tube & Rollform Equipment Company and UCG are an all-in-one resource for metalworking machinery. Together, offering one of the largest in-stock machine inventories, machine reconditioning, machine start-up and support services, new controls, drive systems, buying and selling options for your surplus machinery and more. Visit our services page to view photos and details about our many capabilities.
Our knowledgeable team has over a century of combined experience in the tube, pipe, and rollforming industries and can quickly turn your manufacturing goal into a finished product. Customers can purchase machinery direct off our floor as is, or we can put together a custom production line with your choice of new or used equipment, automation controls, and price range. Fax (419) 874-2825, or email us a drawing of the part you need to make, and we would be happy to send you a quotation.
Visit us for a tour to view all we have in new and used tube mills, rollformers, cut-offs, high-frequency welders, straighteners, control systems, and much more. We are in Perrysburg, Ohio, USA, just an hour from Detroit Metro Airport. Schedule a visit to take a look around and to discuss with us your manufacturing requirements.


Laura Smirin
Controller / CFO

Ken Metzger
President / CEO

Bill Hammer
Vice President



Jennifer Kinney
Purchasing

Bonnie Henninger
Marketing Director

Dan Cox
Electrical Supervisor

Rafael Sanson
Engineering Manager