About Universal Tube & Rollform
Your One-Stop Resource for Tube, Pipe and Rollform Machinery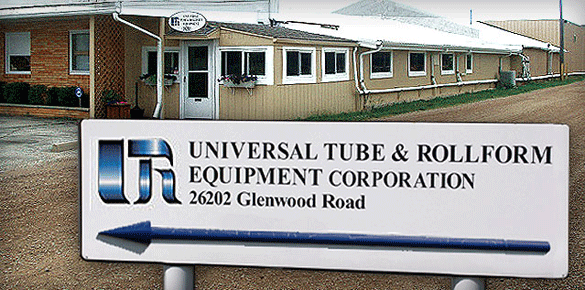 Universal Tube & Rollform specializes in used tube, pipe, and rollform machinery. For over 35 years we have been committed to being the number one supplier of tube and pipe mills in the world.
Our presence in this industry has always been strong and honorable, working with companies locally and all over the world.
Our CEO, Ralph Girkins, has over 35 years of experience in the tube and pipe industry. He is joined by Laura Smirin, Dean Dutched, and Ken Metzger. Both Dean and Ken are each specialists in their prospective fields with over 75 years of experience combined. We take pride in our knowledge and ability to mix and match various machinery to fit our customer needs. New, used, or reconditioned, we can help put it all together to increase the value of your dollar.
Universal offers machine rebuilding, custom machine engineering along with import and export services as well. It is our goal to provide the best all-around service possible for our customers. We are proud of our honest and knowledgeable staff with over one hundred combined years of experience in the tube, pipe, and rollforming industries.
Home to one of the largest inventories of new, used and reconditioned tube and pipe mills. Utilizing over 125,000 square feet of warehouse space, we also stock rollformers, high-frequency welders, tube cut-offs, strip accumulators, decoilers, slitting lines, and much more. We have the resources and expertise to satisfy your company's machinery needs.
Schedule a Visit to our Warehouse
Whatever your tube machinery or coil processing needs, Universal is your one-stop equipment source. Our warehouse is fully stocked, and our machines are ready for your inspection. We're located in Perrysburg, Ohio – right off I-75 and the Ohio Turnpike at exit 64. We're an hour from Detroit Metro and just minutes from Toledo Express Airport. Let your salesperson know when you'd like to visit – we look forward to seeing you!
Universal Tube & Rollform Team




Dean Dutched
Vice President of Sales

Mark Olson
Senior Sales Manager


Jennifer Kinney
Purchasing

Bonnie Hassall
Marketing Director

Marty Haas
Machine Shop Manager