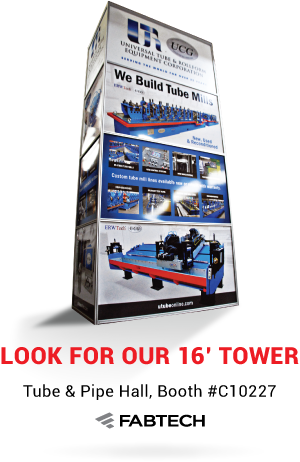 Visit our Booth #C10227 in the Tube & Pipe Hall for a hands-on inspection of our new 3-1/2″ (89 mm) high-speed flying cold saw manufactured by ERWTech and UCG.
We offer one of the largest selections of tube mills and rollformers available and can integrate your choice of new and/or used machinery into a custom tube mill or rollforming line to fit your budget.
Additionally, we offer support services such as start-up & commissioning, in-stock spare parts and more. Our in-house team of engineers and technicians can get your machinery up and running quickly and help maintain its efficiency over time.
Contact us to schedule a meeting at the show 1-419-872-2364.