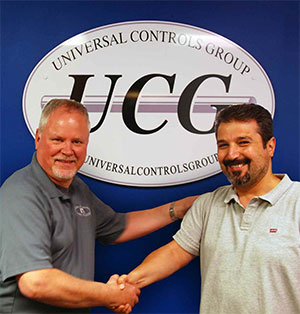 Perrysburg, Ohio – Universal Tube & Rollform / Universal Controls Group i.e., Universal, a metalworking machinery dealer and controls manufacturer, has formed a technical partnership with ERWTech of Turkey to offer American manufacturers quality-built, affordable, new tube and pipe machinery that is fully supported out of Northwest Ohio, USA.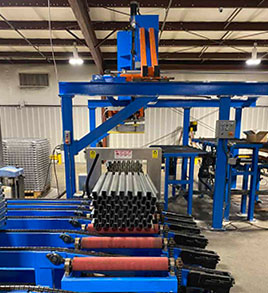 Universal's contribution to the engineering and design process ensures the machinery is compatible and compliant with American mechanical and electrical standards. Custom engineered functions and additional features can be added to meet each customer's production requirements. Recently, ERWTech and Universal completed a very unique material handling project; a roll formed part required nesting to reduce the footprint size. Universal worked hand-in-hand with ERWTech to create a servo-driven system that allowed for many stacking options for the customer to meet their specific packaging needs.
Machinery is tested by Universal at their Perrysburg, Ohio facility before shipping to the customer to ensure a quick and easy start-up. Universal recommends using their experienced team for installation management and electrical start-up. They can also provide operation and maintenance training. Common replacement parts and after-sale services are also available out of their Ohio warehouse to minimize downtime and keep future costs low.
Universal stocks new machinery at their warehouse, currently available is a new 250 KW high-frequency welder. Universal can easily convert the welder to 300 KW if needed. The welder comes complete with the main power supply cabinet, heat exchanger and powered X+Z axis for the head. Also, a new 89mm max OD high-speed flying cold saw recently arrived. The cold saw has already been tested and is ready to ship as soon as needed. Contact Universal for a quote on the new machinery they have for sale at 1-419-872-2364.
Arriving later this year will be a new 89mm max OD tube mill line with double uncoiler, shear & end welder, accumulator, high-frequency welder and a high-speed flying cold saw. This line is not expected to last long on the market, Universal recommends inquiries to be requested now. Contact Universal to discuss your requirements or schedule a visit to their warehouse to view machinery in-stock.
Universal Controls Group, Ltd.
Universal Tube & Rollform Equipment
26202 Glenwood Road, Perrysburg, Ohio 43551
+1 (419) 872-2364
[email protected]
[email protected]