About Universal Tube & Rollform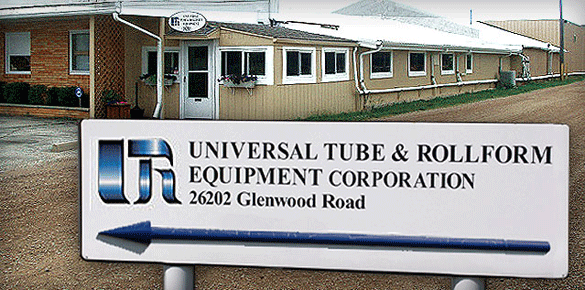 Specializing in used and reconditioned tube mills, pipe mills and rollform machinery for over 35 years. We have always been committed to being the number one supplier of used tube, pipe and rollform Machinery in the world.
Our presence in this industry has always been strong and honorable, working with companies locally and all over the world.
Our CEO, Ralph Girkins, has over 35 years experience in the tube & pipe industry and is joined by Laura Smirin, President, Dean Dutched & Ken Metzger, Vice Presidents of Sales whom are each specialist in their prospective fields with over 75 years of experience combined. We take pride in our knowledge and ability to mix and match various machinery to fit our customer needs. New, used or reconditioned, we can help put it all together to balance your budget and increase the value of your dollar.
Universal represents many fine new equipment manufacturers and offers rebuilding, engineering, import and export services as well. It is our goal to provide the best all-around service possible for our customers. We are proud of our honest and knowledgeable staff with 100+ combined years of experience in the Tube and Pipe and Rollforming industry.
We have one of the largest selections of used tube and pipe mills in the world. Utilizing over 125,000 square feet of warehouse space, we also stock rollformers, high frequency welders, cut-offs, accumulators, uncoilers, slitting lines and much more. We have the resources and expertise to satisfy your company's machinery needs.
Universal Tube & Rollform Team



Ken Metzger
Vice President

Dean Dutched
Vice President

Jennifer Kinney
Purchasing


Bonnie Henninger
Marketing Director

Marty Haas
Machine Shop Manager

Dan Cox
Controls Shop Manager